Upcoming Performances of
---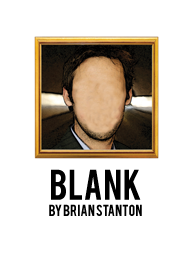 Playing 12 characters, adoptee Brian Stanton embarks on a
mythical quest for identity ultimately discovering the horrific
truth of his birth, an instinctive love for his birth mother, and a
grateful dedication to his adoptive family.
Running Time: 65 minutes
---
BLANK had its World Premiere in Los Angeles, CA in April of 2010. Since then, BLANK has visited Off Broadway New York, Chicago, Dallas, Kansas City, Orlando, San Diego and several other cities in Southern California garnering critical acclaim along the way including a "Best Solo Actor" award at the United Solo Theatre Festival in New York City and 2 StageSceneLA awards: "Outstanding Actor in a Solo Performance" for Stanton and "Outstanding Director of a Solo Performance" for McKerrin Kelly. Stanton has also reached out to the adoption community performing for international support organizations such as the American Adoption Congress, the Concerned United Birthparents, the Alliance for the Study of Adoption & Culture, and the Forget Me Not Family Society Workshop in Vancouver, British Columbia.
Please click to see BLANK's reviews.